One of the newer societies run by women is the Umoja Uaso. It was founded in 1990 and it is an all-female village that started as a refuge for women in abusive relationships.
Most of the inhabitants are girls running from forced marriages or genital mutilation. Women here previously belonged to the Samburu tribe, where they were property of their husband. They had an overall subordinate role in society.
Think about this for a second. In their previous community, if a woman was raped, her husband would cast her out of the home for being unclean with nowhere to go.


Umoja Usao has become a haven for these runaway and homeless women. Those who escape their violent homelife often bring their children with them, creating a haven of peace.
They chose the name thanks to the Swahili word Umoja, meaning "unity". Men are banned from living in the village but are permitted to visit. The only men who can stay the night are those who grew up living in the village (children of women).
Geography and demographics
The Umoja Uaso is a village in Kenya. Founded in 1990, it is an all-female matriarch village. It is located near the town of Archers Post in Samburu County, 240 miles from the capital, Nairobi.
The village runs a primary school, cultural center, and camping site for tourists visiting the adjacent Samburu National Reserve.
To survive and benefit the village, women create and sell jewelry. It is made of manyata huts, built from a mixture of earth and cow dung on an abandoned grassland. Their houses are surrounded by a fence of thorns and barbed wire.
All residents in the community must wear the traditional clothing and beadwork of the Samburu people. Female genital mutilation is outlawed in the village.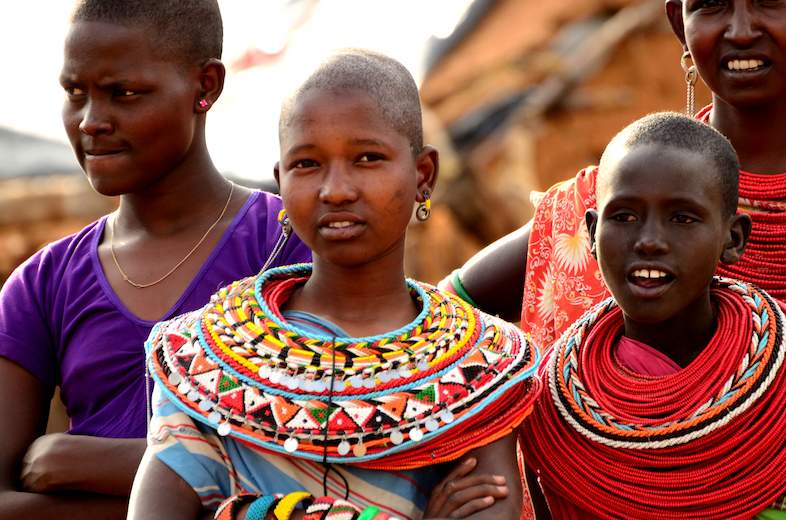 As of 2015, there were 47 women and 200 children living in the village. Men are permitted to visit, but not to stay. Only those who were raised as children in Umoja may sleep in the village.
The village takes in runaways or girls who have been thrown out of their households, raises orphans, abandoned children, and children with HIV.
Their economy is mostly traditional Samburu crafts which they sell at the cultural center. That includes colorful beads, home-brewed low-alcohol beer analogue, and more.
As a traditional society, children are engaged in tending livestock, but they can also get an education. There is a primary school that can accommodate 50 children. They also opened a nursery school.
Women gather under the tree of speech to make decisions for the town.
Sex rules
Women in Umoja have sex and children on their own terms. In case any of the men wants to have a relationship, they can. They say, "We still like men. They are not allowed here, but we want babies and women have to have children, even if you are unmarried".
Unmarried girls in Umoja are strictly away from marriage. But if they desire having children, they can have boyfriends from other villages. They can raise them on their own with complete freedom. Young unmarried boys from the nearby villages can enter Umoja as long as they agree and abide by the rules.
Spreading the word
Women in Umoja work with surrounding villages to educate girls. They talk to young girls, and educate them about sex, early marriage, and female genital mutilation. The head of the Umoja school said, "If a girl is married off at an early age, that girl will not be a competent parent. Giving birth they face a lot of challenges. They rupture, they bleed, because they were young".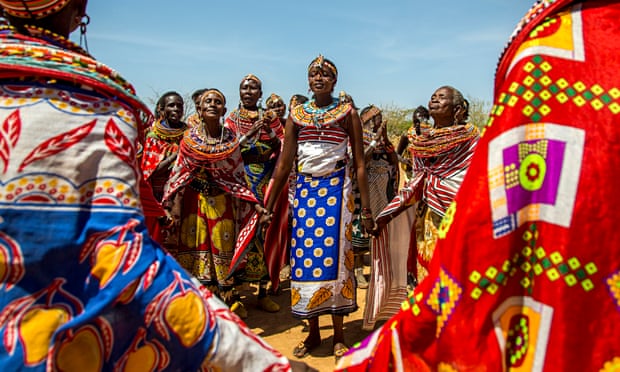 When a woman leaves the village to return to her husband, others make sure she does not revert to second-class status. One resident said, "We step in and teach her about her rights and even follow up to ensure that she actually gets to enjoy these rights, including seeing whether she is dressed well and has ownership of some property".
Juliana Nnoko-Mewanu, a researcher on women and land for advocacy group Human Rights Watch, said women should not feel they have to cut men out of their lives to be able to make decisions on their property.
She says, "Women must not resort to women-only spaces to experience the ability to access, use, control, and benefit from land and perceive tenure security. The government should institute safeguards to protect women's rights to property during marriage, divorce, and in the case of the death of a spouse".
How it all began?
Nowadays, Umoja is a safe haven for women and children who escaped from living under a patriarchal system like child marriage, domestic violence, rape, genital mutilation, and more.
Women faced rape attacks from their own people and British soldiers. Generally, these rape attacks took place when the women would go out of their village for water or wood.
Rebecca Lolosoli is the founder, and she was the first one to start the journey. Nowadays, she is also an advocate for women's rights.
Umoja is the first brave step towards fight for the land of equality. Jane Nolmongen is another woman. Her husband banished her from their family home after discovering she had been raped by a British soldier.


For the past 30 years, Nolmongen has lived in Umoja, supporting her children and working land she could soon own.
She says, "The village has been a source of support for me, because we have worked together to make progress in our lives and teach each other the importance of women's rights".
She was also among the first residents in the village founded in 1990 as a refuge for Samburu women suffering sexual assault.
Nowadays, they are on the brink of being granted the title deed to a tract of grazing land by the government. That was a right they never would have had outside the village. In Samburu community, it was not possible for a woman to own land and other property.
Lolosoli founded the community after she was thrown out of her community and beaten by a group of men for speaking against the practice of female genital mutilation. While recovering in hospital, she came up with the idea to start a village where men were banned.
In the beginning, the village started with 15 women. And at its peak, it had 50 families. The village was hit hard by the Covid-19 pandemic, since there were no tourists and women had to find other ways to survive. Mostly, using their savings.