When Ronald McNair was 9 years old, he decided he wanted to check out some books from the whites-only library in Lake City. The librarian called the police. And in 1959, police came to a segregated library to stop a 9-year old boy from checking out books. He was told by the staff the library was not for black people.
The police suggested that the librarian let young Ron borrow the books. And the librarian relented when Pearl McNair, Ronald's mother, promised that her son would take care of them.
Ronald would go on to get a PhD. In physics from MIT and become an astronaut. That library that refused him access, now bears his name.Born in October 1950, Ronald was an American NASA astronaut and physicist. He died during the launch of the Space Shuttle Challenger on mission STS-51-L in which he was serving as one of the three mission specialists.
Prior to the challenger disaster, McNair flew as a mission specialist on STS-41-B aboard Challenger from February 3 to February 11, 1984. That made him the second African American to fly in space.
Early Life and Background
Born in Lake City, South Carolina, Ronald had two brothers, Carl and Eric. In the summer of 1959, his life took a unique turn. He refused to leave the segregated Lake City Public Library without being allowed to check out his books. The police and his mom were called. And he was allowed to borrow books from the library.
Today, there is even a children's book, Ron's Big Mission that offers a fictionalized depiction of the event. Ronald graduated as valedictorian of Carver High School in 1967.
In 1971, he got his Bachelor of Science degree in engineering physics, magna cum laude, from the North Carolina Agricultural and Technical State University in Greensboro, North Carolina.
And then five years later, he got his PhD in physics from MIT under the guidance of Michael Feld. He became nationally recognized for his work in the field of laser physics.
Fun fact: in the same year he got his PhD, Ronald won the AAU Karate gold medal. He would win 5 regional championships and earn a 5th degree black belt in karate as well. He would also continue his love for the saxophone during college and his life. He was famously photographer playing sax during his first mission to space in 1984.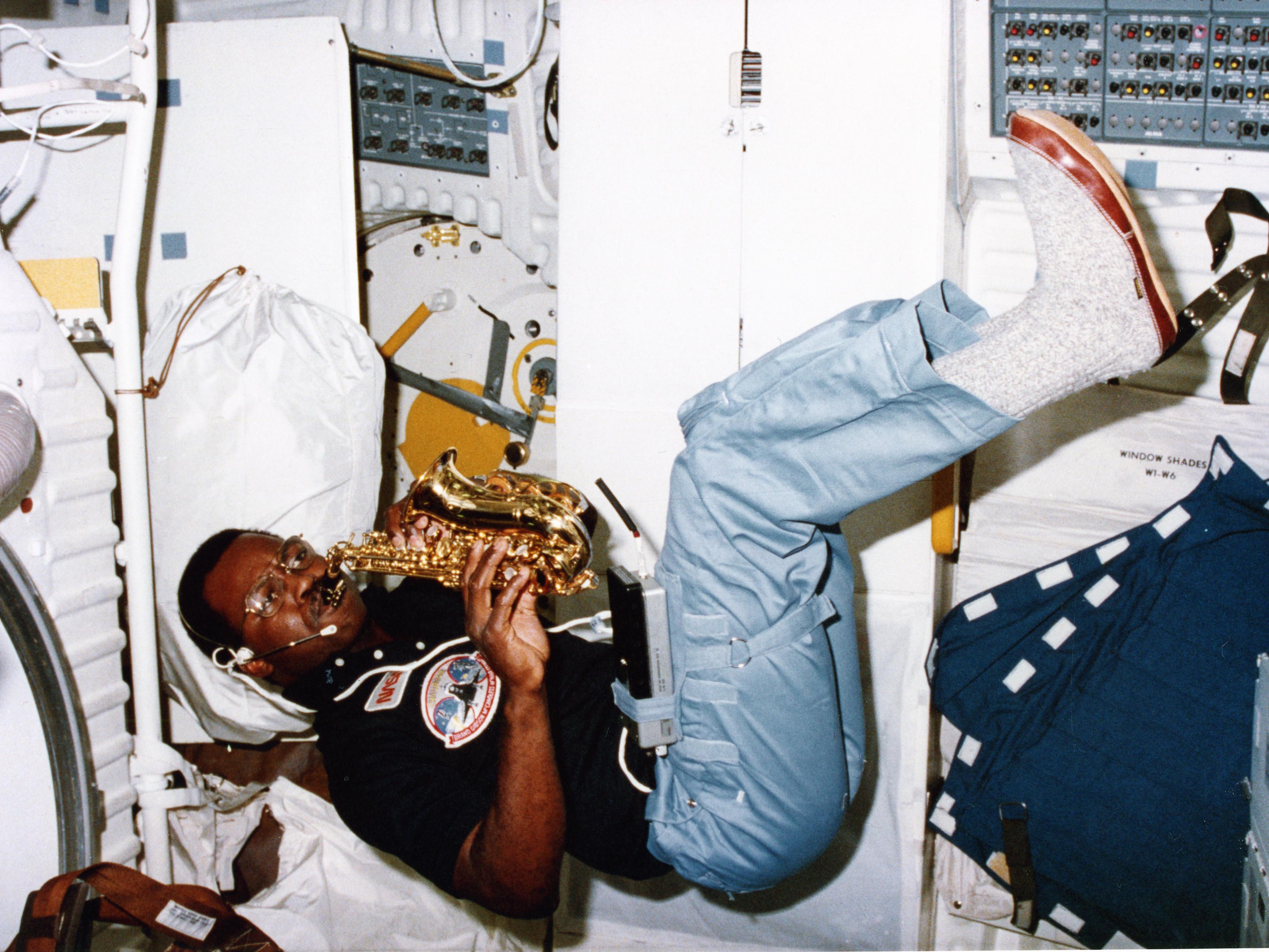 Following his graduation from MIT, Ronald became a staff physicist at the Hughes Research Lab in Malibu, California.
Second African American in Space
While working as a staff physicist at Hughes Research Laboratories, McNair learned that NASA was looking for scientists to joint its shuttle program. He was one of the 35 selected in January 1978 among 11,000 applicants. Ronald completed his training and evaluation period the following August.
Five months after Guion S. Bluford became the first African American in Space, Ronald became the second with the launch of the STS-41B mission of the Space Shuttle Challenger on February 3, 1984.
As a mission specialist, he operated Challenger's robotic arm to help astronaut Bruce McCandless conduct his historic untethered space walk.
McNair logged 191 hours in Space. Challenger orbited Earth 122 times before returning to the Kennedy Space Center on February 11.
The Challenger Tragedy
In Early 1985, McNair was tapped for the STS-51L mission of the Space Shuttle Challenger. That undertaking draw media attention for the selection of teacher Christa McAuliffe as a civilian payload specialist.
Again, McNair was tasked with controlling the robotic arm to release and retrieve a satellite to observe Halley's Comet.


Following multiple delays, the shuttle launched shortly before noon on January 28, 1986. Just 73 seconds later, on live television, the shuttle exploded at around 46,000 feet, killing all seven crew members. At the time, McNair was only 35 years old.
Fun Facts
– Friends remember Ronald as the smartest kid in Lake City. He could read at age 3 and started second grade at age 5
– His friends nicknamed him Gizmo due to his love for science
– Obsessed with space, he talked about Sputnik, Sputnik, and Sputnik even back as a child
– While finishing his doctoral thesis in physics, someone stole his backpack that contained two years worth of data. But McNair returned to the lab and redid his experiments. He still graduated on time, and with honors in 1977
– A&T honors McNair every year on the anniversary of his death with a symposium that attracts McNair scholars from around the nation