In the United Kingdom, Myra Hindley is known as the most evil woman in British modern history. And that says a lot considering that the UK has a long history of queens, princesses, and powerful women. But she and her partner shook the nation in the 1960s when they committed the Moors Murders.
Myra and her partner Ian Brady were responsible for the kidnapping, sexual abuse, tortude, and murder of three children aged under 12 and two teenagers aged between 16 and 17 years.
A key found in her possession led to incriminating evidence, launching a tape recording of one of the murder victims screaming as Hindley and Brady raped and tortured her.
Myra developed a swagger and arrogant attitude that became her trademark. According to police secretary Sandra Wilkinson, Myra and her mother were leaning against the courthouse eating sweets, with Myra seeming indifferent and uncaring of her situation.
Who was Myra?
Born in Crumpsall in July 1942 to parents Nellie and Bob Hindley, Myra was raised in Gorton. At the time, it was a working-class area of Manchester dominated by Victorian slum housing.


Her father was an alcoholic who was often violent to his wife and children. The family lived in poor condition, and Myra was forced to sleep in a single bed next to her parents' double bed.
Her father served with the Parachute Regiment and was stationed in North Africa, Cyprus, and Italy during World War II. He was known as a hard man while in the army. He expected his daughter to be equally tough. It was Bob who taught Myra to fight and insisted that she stick up for herself.
There was evidence of her violent behavior as a child. She was 8 when a boy scratched her cheeks drawing blood. Myra burst into tears and ran to her father, but he threatened to leather her if she did not retaliate. So, Hindley found the boy, knocked him down with a series of punches, and wrote later, "At eight year old I'd scored my first victory".
Another important influence in her life was Catholicism. She was baptised in a monastery as an infant in 1942. Her father insisted she have a Catholic baptism, and her mother agreed. Hindley was increasingly drawn to the Roman Catholic Church and began taking instruction for formal reception into the church. She took the confirmation name of Veronica and received her First Communion in November 1958.
Her first job was as a junior clerk at a local electrical engineering firm where she ran errands, made tea, and typed. At 17, she became engaged after a short courtship, but called it off months later, saying the young man was immature and unable to provide her with the life she wanted.
She would then take judo lessons at a local school, but partners were reluctant to train with her. She was often slow to release her grip, making them uncomfortable.
Relationship with Ian Brady
In January 1961, she was 18 years old and joined Millwards as a typist. She became infatuated with Ian Brady, even after learning that he had a criminal record.


She began a dairy, which later revealed she had a fascination with Brady. She spoke with him for the first time in on 27 July. Over the next few months, she continued making entries about her fascination with Brady.
It wasn't until December 22 that Brady asked her on a date, going to the cinema. According to some sources, the film was Judgment at Nuremberg, while Hindley recalled it as King of Kings.
Their dates continued, usually a trip to the cinema watching an X-rated movie, then back to Hindley's house where they drank German wine.
Brady gave her reading material and they spent their lunch reading along to one another from accounts of Nazi atrocities. She began emulating an ideal of Aryan perfection, bleaching her hair blonde and applying thick crimson lipstick.
She began to change her appearance further, wearing clothing like high boots, short skirts, and leather jackets. Hindley and Brady became less sociable to their colleagues, and spent most of their time at the library, reading books on crime, torture, and philosophy.
They even took explicit photographs of each other. For Myra, that represented a change from her earlier personality, which was more shy and prudish.
What were the Moors Murders?
Myra and Ian's relationship culminated with the Moors Murders. She and her partner carried out five murders between 1963 and 1965. All of the murders were in and around Great Manchester. At the time, Myra and Ian were in their 20s.


They lured children and teenagers to their death, then buried them on bleak Saddleworth Moor in the south Pennies.
Four of the victims were sexually abused. The names of the victims are Pauline Reade, aged 16, John Kilbride, aged 12, Keith Bennett, aged 12, Lesley Ann Downey, aged 10, and Edward Evans, aged 17.
Pauline disappeared on her way to a disco in July 1963. John Kilbride was snatched from a market in November 1963.
Pauline was stripped, sexually abused, and tortured. Her last moments were captured on an audio recording which would later become evidence for the murders. The harrowing recording brought the judge, jury, and courtroom spectators to dears during the trial.
Brady and Hindley took snapshots of themselves standing over the graves of the victims. The bodies of three victims, John, Lesley Ann, and Edward were discovered at the time of the latest killing, in October 1965.
Edward was battered to death with an axe. He was found in an upstairs room at Brady's home. Keith's body was never found.
In 1987, Brady confessed to the murders of Pauline Reade and Keith Bennett, but he was never tried for the crimes. He passed away in 2017 at the age of 79.
Hindley, who many call the most evil woman in Britain, passed away in prison in 2002 at the age of 60.
What happened to the bodies of the victims?
The slaughter of five children occurred between 1963 and 1965. Four of the bodies were found. Three of them were found at the time of the last killing.
But in October 2022, an author claimed he found the fifth grave, the burial site of the 12-year-old Keith who went missing in 1964.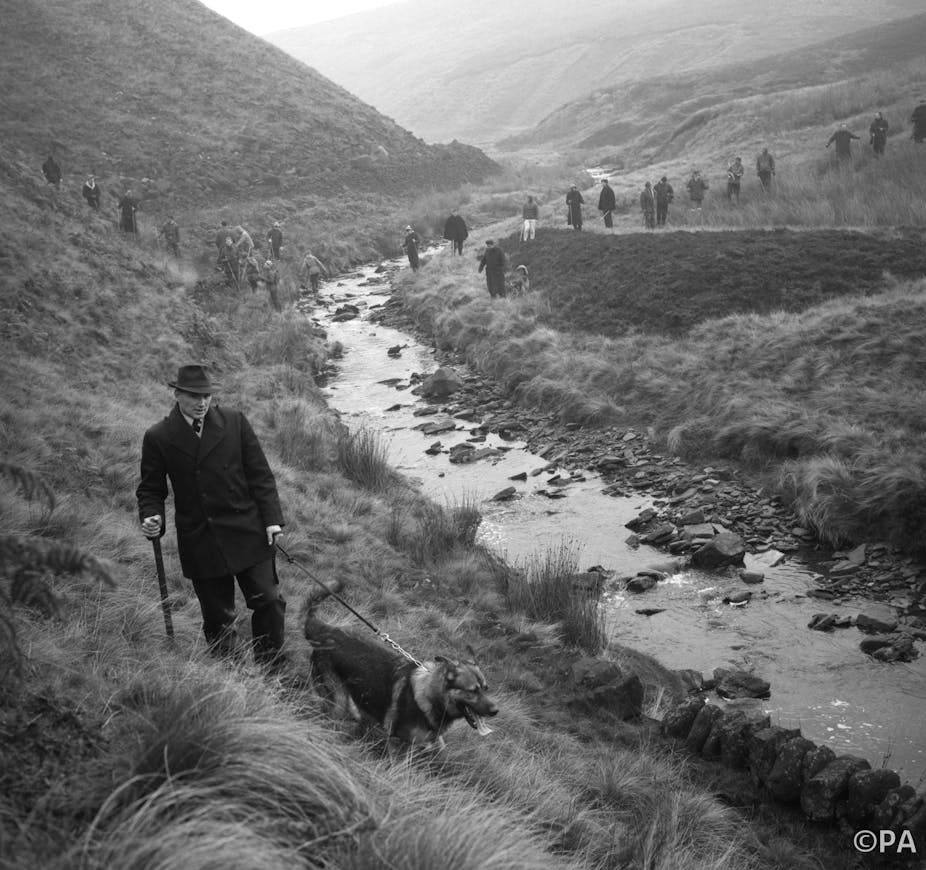 Police went on a search for the Moors murders victim on Saddleworth Moor. But they ended the search without any evidence of human remains.
The police began searching the area in September 2022, following the statements by author Russell Edwards. He believed he had located Keith's grave following extensive soil analysis indicating the presence of human remains.
In Pop culture
In May 2006, the See No Evil: The Moors Murders were broadcasted on ITV. The two-part British television serial tells the story of the Moors murders.
It was the first dramatization of the notorious murders and was produced marking the 40th anniversary of Brady and Hindley's trial. The series was with the support of the families of the victims, based on two years of research.
Sean Harris portrayed Ian Brady, while Maxine Peake portrayed Myra Hindley.