The Millau Viaduct is only the world's tallest bridge, it is also one of the most impressive ones. Standing at 1,125 feet, the bridge is higher than the Eiffel Tower. Designed to look like a huge, yet at the same time, slender yacht, the bridge touches the Tam Valley below it in just nine places.
Designer Lord Norman Foster designed the bridge from the idea of French engineer Michel Virlogeux. It was specifically made to fit the impressive natural beauty of the area with a "delicacy of a butterfly".
Construction cost more than $520 million, but the company financed the project in exchange of toll rights for 75 years. They will get their money back.
Why was the Millau Viaduct bridge built?
As one of the tallest bridges, the bridge is renowned for its design. When construction was announced initially, engineers and constructors were skeptic and considered the bridge "impossible to achieve".
This is why it is considered one of the greatest achievements in engineering in the world. Like many other bridges, it was built to solve a problem. There was a plan to build a bridge spanning the Tarn Valley as early as 1987.
The problem was at the time, conditions and technology didn't allow for construction. Constructors had to descend into the valley to get there. It plagued the infrastructure of the valley.


In 1991 an announcement was made to build the viaduct to relieve pressure on local roads. They commissioned British architect Norman Foster and French Structural Engineer Michel Virlogeux to get the job done. Michel was a bridge specialist who had designed more than 100 bridges before.
The combination of a visionary architect and a highly accomplished structural engineer was seen as a perfect mix. And the two of them achieved the ambitious project.
Why is the bridge famous?
The Millau Viaduct is famous as the tallest bridge in the world. Standing at 1,125 feet, it is head and shoulders above the closest competition, the Yavuz Sultan Selim Bridge in Istanbul and the Russky Bridge in Russia.
The bridge is a cable-stayed, concrete and steel construction viaduct motorway bridge spanning the Tan gorge Valey near the town of Millau in Southern France. It forms part of the A75 to A71 autoroute between Paris, Beziers, and Montpellier in France.
After the bridge was finished, it won a couple of awards, including the 2006 Outstanding Structure Award from the International Association for Bridge and Structural Engineering.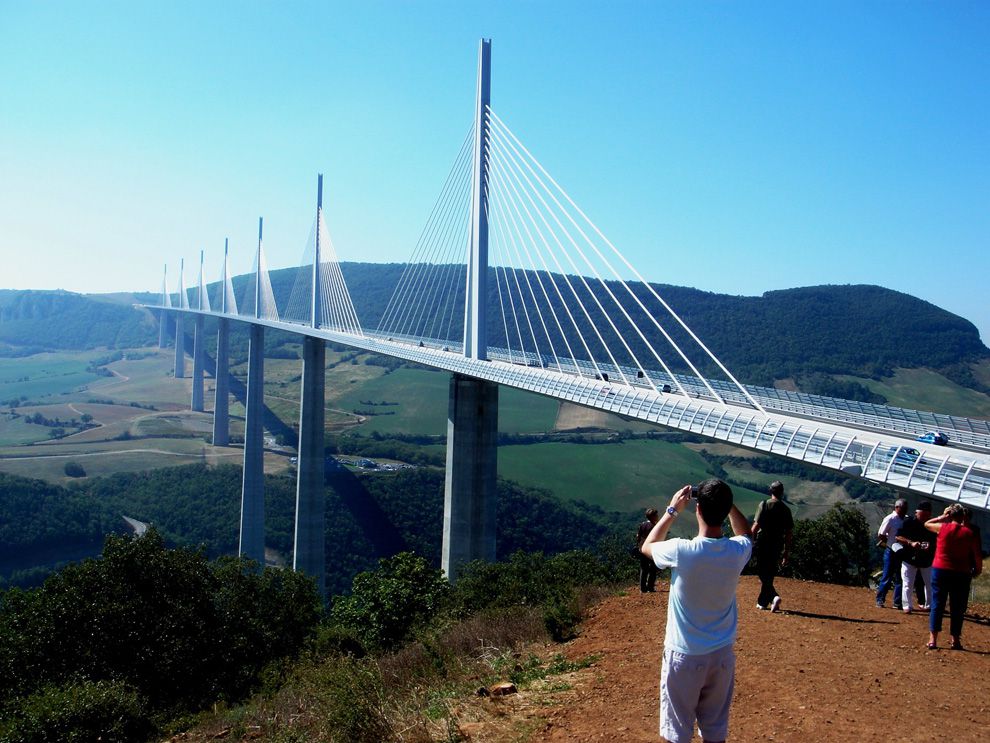 It has also made the bridge popular for photographers and Instagram celebrities. For the best photo, one has to arrive at the bridge shortly after sunrise in the Autumn. At this time, the bridge frequently floats above the overnight mists that have formed in the valley below.
Facts to Amaze You
Here are some facts that make this bridge that much more impressive.
– It remains the tallest bridge in the world at height of 1,125 feet above the ground
– It has a total length of 8,070 feet and width of 105,2 feet and 6 long spans each with a length of 1,122 feet
– The bridge features the highest pylons in the world, there are total of 7 pylons that support the bridge. The two tallest are P2 and P3 located nearest to the river. They have a height of 803 feet and 725 feet respectively
– Designed to avoid traffic jams during the summer, travelers who want to reach Spain can use it to get to holiday spots on the Costa Brava and Costa Blanca. Before the bridge, traffic had to go down into the Tarn Valley and pass the town of Millau, causing a lot of traffic jams
– There were 4 potential routes for the bridge, but three of them had issues like negative impact on residents of the town, negative impact on the environment, and technical difficulties


– Construction of the bridge began in 2001 and took only three years to complete for this massive engineering project. At the peak of construction, 600 master craftsmen were enlisted to bring the dream to reality
– The viaduct consumed 127,000 cubic meters of concrete, 19,000 tons of steel for reinforcing the concrete and 5,000 tons of pre-stressed steel for the cables and shrouds
– According to the builders, the bridge will last for at least 120 years