Nikko Allen Jenkins is an infamous killer, who claimed that he committed crimes under the direction of Apophis, an ancient Egyptian deity who embodied chaos. Nikko confessed in a handwritten letter that he would protect Apophis kingdom with animalistic savage brutality.
How much do you know about this spree killer?
Early Life
Born in September 1986, Nikko Jenkins is an American spree killer convicted of committing four murders in Omaha, Nebraska.
He was born in Colorado, United States as son of Lori Jenkins and David A. Magee. Raised alongside his two sisters, Erica and Melonie, he was exposed to criminal actions even as he was growing up. Those actions came at the hands of his parents.


His father David was convicted for multiple crimes, including terroristic threats before dying in 2009. His mother, on the other hand, was indicted for being a felon in possession of ammunition in 2013.
All of that had a negative influence on Nikko, but he still says that the Egyptian God Apophis was the one responsible for his crimes.
He was detained for taking a gun to school as early as 7 years. Nine years later, he got a 21-year sentence for carjacking. Nikko assaulted a guard on duty two times, and participated in a prison riot.
Was he married?
Who was his wife? Was he married? In February 2010, Nikko and Chalonda got married at the Tecumseh State Prison. Seven years later, they finalized their divorce on August 7, 2017.
During their time together, they experienced only four weeks as a couple outside prison. There are no records of any children.
Crimes and Murders
We said before that Nikko showed criminal tendencies even as a child. He took a gun to school when he was only seven years old. While he did not harm anyone, it was a red flag.
At the age of 15, he was sentenced to prison after a carjacking case. He was sentenced to 21 years in prison, but served 10 and a half.


Shortly after coming out of prison, he was involved in a series of spree killings within the interval of two weeks.
He first lured two men, Julian Uribe Pena and Jorge C. Cariga-Ruiz on August 13, 2013, with the guise of having intimate relations with two women only to shoot them.
And then four days later, the on August 17th, the body of Curtis Bradford was found. The investigation led to the association with Nikko because of their time together in prison.
His final victim was Andrea Kruger, a victim whose body was found by the road with multiple gunshot wounds. Nikko confessed to all of the murders in an 8-hour grueling interviews.
How was he arrested?
Nikko was arrested over unrelated terrorist threats reported by his wife. He was then linked to the killings when investigators found CCTV footage from a local gun outlet.
The video showed a woman buying guns matching what was used in the murder incidents. In November 2013, Nikko submitted a handwritten letter to the Omaha World-Herald, prosecutors, and a judge.
In it, he pleaded guilty to all four slayings, but noted he did it as a sacrifice to the Egyptian snake god Apophis.
Trial and conviction
While Nikko admitted to the killings, he also filed a federal lawsuit seeking $24.5 million from the State of Nebraska. The spree killer claimed they released him from prison prematurely. In the lawsuit, he accused the state of wrongfully releasing him from prison before he was ready to face the world. He also noted they ignored his hearing voices form Apophis.The spree killers claimed authorities had not done enough to treat his mental health issues. And his wife agreed with him. She said that he was not ready to leave prison.
Jenkins also claimed that his problems were caused by mental illness. He said he had schizophrenia, biporal disorder, and obsessive-compulsive disorder.
Yet, a medical evaluation found out he was faking psychotic symptoms to get out of prison.
Is he still alive?
In May 2017, a three-judge panel sentenced him to death. It was a landmark ruling, considering the despicable acts he had committed over the time.
Yet, five years down the line, there are no news about his death. He was also sentenced to 450 years in prison on weapons charges connected with the murders.
Nikko was imprisoned at the Nebraska Correctional facility and is yet to be executed. His lawyers say he is too mentally ill to be executed.
In his cell, he mutilated himself in various ways, including carving the number 666 on his forehead. But the numbers came out as upside-down nines because he was using a mirror.
Was he guilty?
During his entire trial, before, and after, he blamed Apophis for his crimes. He held that he committed the crimes under the direction of Apophis and has confessed such in a handwritten letter. In it, he said he will protect Apophis kingdom with animalistic savage brutality.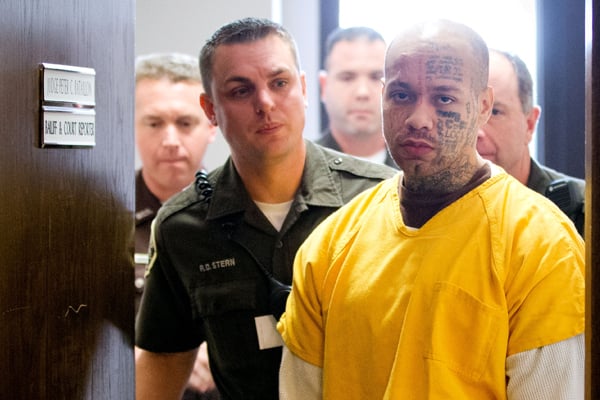 Nikko made several body alternations in honor of Apophis. In 2015, he tried to mutilate his penis to look like the Egyptian god, but it went wrong. He could not get it right, but it never stopped him from altering other parts of his body.
As we said before, he tried to carve the number 666, but came out as 999. He tried to slice his tongue to look like a serpent, but it was another futile attempt. He ended up splashing blood on his overall and on the walls.