Sexy mannequins have been a thing for a while. But you be surprised that sexy grave statues are also a thing. Are these tombs with magic powers? Well, one story from France seems to insinuate that. Today, we will talk about Victor Noir, a famous French person whose grave has given birth to legends.
Women around the world believe that his tomb has magic powers. When you visit Paris, Louvre and the Eiffel Tower might be on your priority list.
But for some women, Pere Lachaise cemetery is the place to go. There, they go and visit the grave of Victor Noir. Why? Read on to find out.
Who was Victor Noir?
Born July 1848 Victor Noir was a French journalist. He passed away in January 1870, after he was shot and killed by Prince Pierre Bonaparte, a cousin of the French emperor Napoleon Bonaparte.
He was not born Victor Noir, but adopted it as his pen name after his mother's maiden name. Victor moved to Paris and became an apprentice journalist for the newspaper La Marseillaise, owned and operated by Henri Rochefort.
Following his death, he became a symbol of opposition to the imperial regime and strangely, a fertility symbol.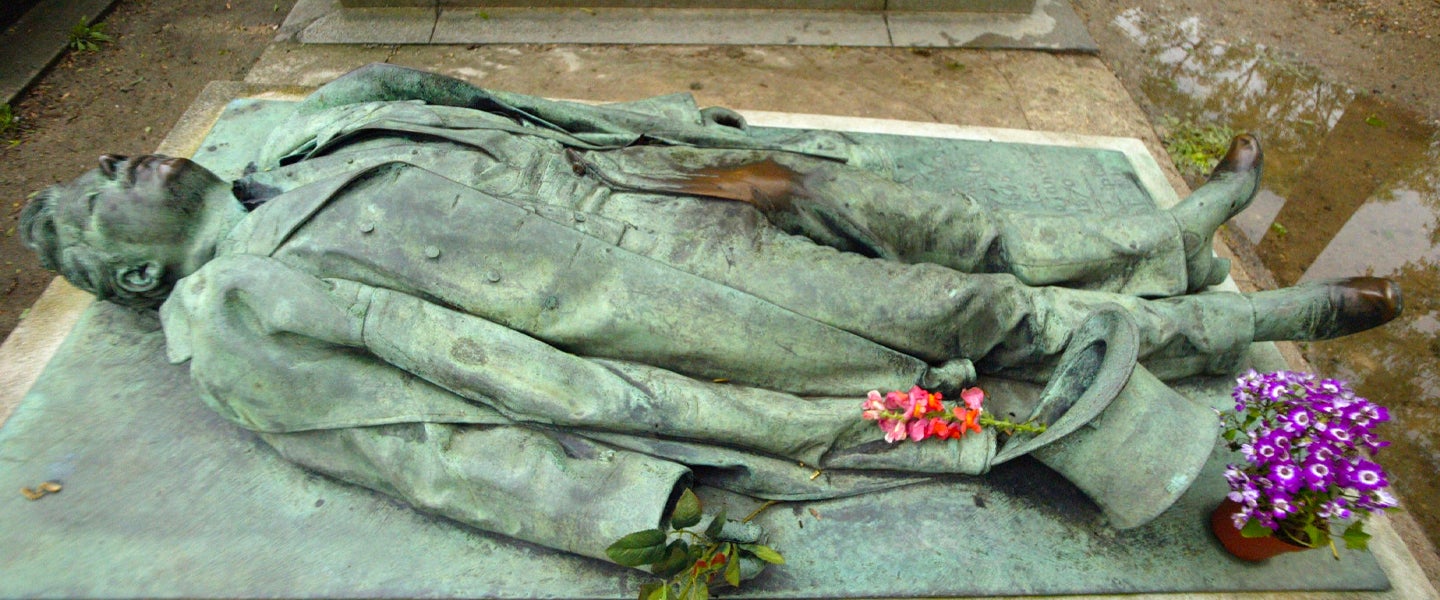 In December 1869, a dispute broke out between two Corsican newspapers, the radical La Revanche, and the loyalist L'Avenir de la Corse. L'Avenir published a letter to its editor authored by Prince Pierre Bonaparte, who claimed the staff at La Revanche were cowards and traitors. At the same time, the newspaper where Noir worked, La Marseillaise, lent strong support to the cause of La Revanche.
On January 1870, Prince Bonaparte wrote a letter to Rochefort, claiming to uphold the good name of his family.
He wrote, "After having outraged each of my relations, you insult me with the pen of one of your menials. My turn had to come. Only I have an advantage over others of my name, of being a private individual, while being a Bonaparte… I therefore ask you whether your inkpot is guaranteed by your breast… I live, not in a palace, but at 59, rue d'Auteuil. I promise to you that if you present yourself, you will not be told that I left".
The following day, Victor and Ulrich de Fonvielle were sent to fix the terms of a duel with Pierre Bonaparte. They presented themselves to the Prince instead of contacting his seconds, which was contrary to custom.
Each of them carried a revolver in his pocket, and presented the Prince with a letter signed by Grousset. Yet, the prince declined the challenge, asserting his willingness to fight his fellow nobleman Rochefort, not his "menials".
In response, Noir asserted his solidarity, and according to the version eventually accepted by the court, the Prince slapped his face and shot Noir dead. The Prince claimed it was Noir who struck him first, whereupon he drew his revolver and fired at his aggressor.
A public outcry followed and more than 100,000 people joined Noir's funeral procession to a cemetery. Because the emperor was not popular at the time, Pierre's actions caused enormous public outrage.
After the Franco-Prussian War, and the establishment of the Third Republic, Noir's body was moved to Pere Lachaise cemetery in Paris in 1891.
How the Grave Became a Legend
We talked how Victor's murder enraged the public. They were not happy with the political situation in France at the time, and the murder of a journalist by a member of the emperor's family was the last straw.
Victor ended up being a symbol of revolution and more than 100,000 people attended his funeral. He was buried in Neuilly, and forgotten for about 20 years.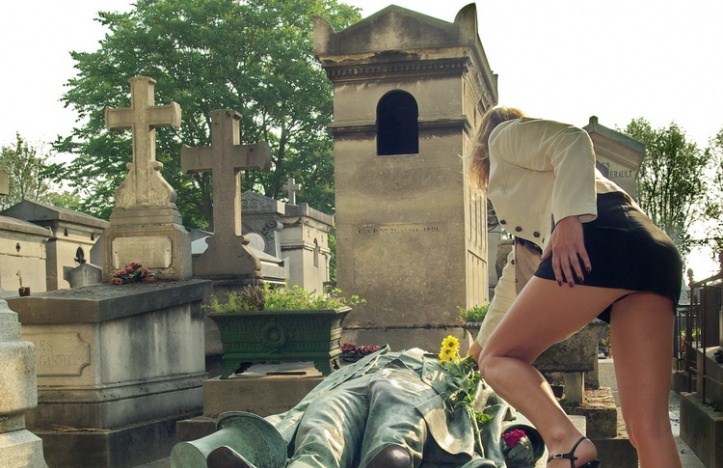 Yet, in 1891, his name became the talk of the town again. When his body was moved to the cemetery in Paris, to honor his name, a renowned French sculptor, Jules Dalou, was given the task of creating a sculpture in bronze. That sculpture would sit in front of his grave.
Dalou used drawings for reference, and chose to depict the journalist lying down on the ground with his hat beside him. He put a lot of time and detail into the features, like hair on his head, creases in his shoes, lines on his face.
But there was also one mysterious feature that started the legend. That was the large bulge in his pants.
Sexy Grave for Fertility
Since Jules Dalou made the sculpture for Victor, women start coming to see and visit the grave. His statue has become a symbol of sexual satisfaction and fertility.


According to the legend, they come and kiss his lips, and rub the bulge in his trousers. The legend says that if you want to get pregnant, you need to touch his right foot, and if you want to have twins, you need to teach his left foot.
Because of the high-touch nature, some of the spots of the statue have become shiny (from rubbing). The rest of his body, on the other hand, continues to be standard green of oxidized bronze.
Fun fact: in 2004, even Dita Von Teese visited the grave, posing on the top of Victor. This cause quite the stir, and even more women came to visit the grave. They do all other suggestive things.
So, if you are ready to boost your fertility, book a trip to Paris.